[Lean Digital Transformation #2] Process/Technology - to Make Your Digital Transformation Happen
Please select some categories on More Settings section.
After going deeper and explaining about 2 (Business Impact and People) of the 3 main pillars to the Digital Transformation (Digital Transformation) shift process, now is time to bring "Process/Technology". Before we start, we need to understand that "Digital Transformation (Digital Transformation)" is not the same as "digitalization." In other words, just using digital tools in your daily operations is not completely Digital Transformation. Digital Transformation also requires transformation of the company culture, environment, mindset, structure, etc.

However, process and technology take a very important role in Digital Transformation. The crucial point about this pillar is choosing the right partner to help you with the process and, of course, the best digital tools that match with business goals and problems that you want to solve. Choosing the development method is crucial not only for IT professionals but also for marketers and other divisions.

At CI&T, we strongly recommend the Agile development method that allows us to release products more quickly compared to Waterfall. As soon as the products are at the level where they can deliver values to users, we launch as MVP, and add/improve functions having users' feedback. Adding Lean principles and some other important elements, CI&T developed the Lean-Agile development process which has high transparency, visibility, predictability which makes it easier to share with other teams and expand on a global scale. Usage of several types of matrices, workshops and roadmaps with BCP, frequent communication with stakeholders, etc, allows us to do so.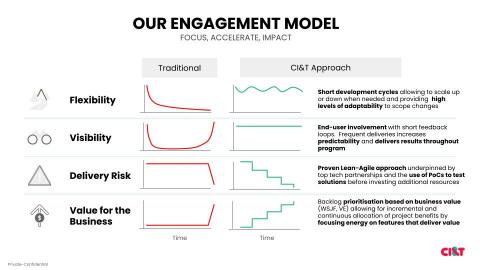 1. Silos between IT and Business Teams
In many companies, when it comes to developing new IT solutions/strategies for starting Digital Transformation, the communication gap between IT Team (who develops digital solutions) and Business Team (who uses the solutions) rises as a problem. However, to realise the Digital Transformation and bring successful outcomes to the project, all the teams need to share the same business goal and work together.

When CI&T works on projects with clients, we usually encourage them to build complementary area's goals with multidisciplinary teams and the culture of experimentation, as the leader supports the teams in the process and allows them to solve problems without silos.


Encouraging collaboration is important to create a Multidisciplinary team, gathering professionals from different areas and experiences, using tools to have a consistent system throughout teams. We use a lot of different processes in our business. For example, we use A3 for problem solving, Design Thinking for exchanging ideas and collective creativity, Gemba Walk to show the real work to all the members and executives.

Often we see that it's not the technological aspect of digital projects that fail – there's a lot related to the people aspect and how the organisation and leadership are connected to the technical team implementing a solution
Felipe Rubim, VP, CI&T Asia Pacific
2. Agile can only run in startups/small companies?
"Agile shift" is one of the big steps to Digital Transformation for many companies. In some articles found, it is said that "There are difficulties for large companies to scale Agile, it's rather for startups and small IT teams." (Source: McKinsey & Company) For this, company cultures and business models could be one of the reasons. In many large traditional companies, there already are solid processes and business models and they are difficult to change. For instance, a centered decision-making model could prevent agility. Also, for its scalability, they need to make sure that the Agile concept will efficiently be shared and understood by people outside of IT teams.

You can expand to an enterprise scale - Four important points
As CI&T runs an enterprise agile, we have discovered and built great processes, structures, and tools in our journey.

1. Importance of project managers - It is said that there are no project managers in Agile projects. However, in order to lead the end-to-end support on a bigger scale, project managers take an important role to oversee the projects and make sure that desired business values are efficiently delivered to the clients.
2. Manager as a leader - For us, "managers'' also means "leaders". Managers should have power to control but this is something different from "command & control." At CI&T, managers are required to lead the projects, trusting team members' capabilities and giving them autonomy for certain tasks. Especially when running agile with a scale, managers need to decentralise decision making processes to keep agility and focus on value delivery.
3. Value Engineering tools - We understand that it is impossible for one manager to manage all the tasks in agile projects. For this, we have a tool called "value engineering" to help managers control and prioritise some of their tasks to bring more values to clients. As a leader, they can keep non-prioritised tasks with the team.
4. Metrics - Within agile projects, we use the same metrics to share with the teams and stakeholders to tell the story about the projects with transparency. Even when many people are involved in the project, metrics bring everyone on the same page, helps to identify problems quickly, leads us to build trust and to manage properly.

Overall, in order to expand Agile processes and mindset, CI&T has Lean-Agile processes and metrics to share on a global scale. With frequent communication and aligning metrics and tools, we have successfully implemented Agile frameworks to companies such as Astellas and Johnson & Johnson.
Use process and technology wisely to accelerate Digital Transformation
There are many digital tools invented every day. However, using brand new tools is not always the right decision. Most of the time, innovation happens while you explore the most suitable ways to solve your problems and achieve goals. With the Agile process, a company can produce a minimum viable product (MVP) much quicker than the traditional waterfall process. MVP shows us the feedback sooner and it can also reduce the margin of error by working on the project in smaller increments, allowing the team to see issues as they arise much sooner than they would if they waited. CI&T is experienced with helping clients to find the right tools and assist with the transformation to Agile process.

Whether in Brazil, Australia or anywhere else, companies have realised the key to meaningful change is getting on top of the data, and helping it permeate each and every part of the organisation
Leo Abdala, CI&T ANZ Digital Transformation Director
---