Top 3 transformation dilemmas
and how to overcome them


[Webinar on CIO Summit 2021 Australia by CI&T]
On September 15th 2021, CI&T joined CIO Summit 2021 Australia and held a webinar on "Top 3 transformation dilemmas and how to overcome them".

Digital transformation — or acceleration even — is now a crucial component of business strategy. It is no longer an isolated initiative, and it's not just about adopting emerging technologies or an agile framework. Being assertive in the execution is crucial for unlocking growth and profitability. There is nothing worse than changing your operating model, increasing your investments in technology and apply them in the wrong direction. We have identified 3 main dilemmas we see repeatedly confronting organisations that are going through the process of transforming themselves. During this session, we talked about these ubiquitous dilemmas and share our thoughts on how to overcome them.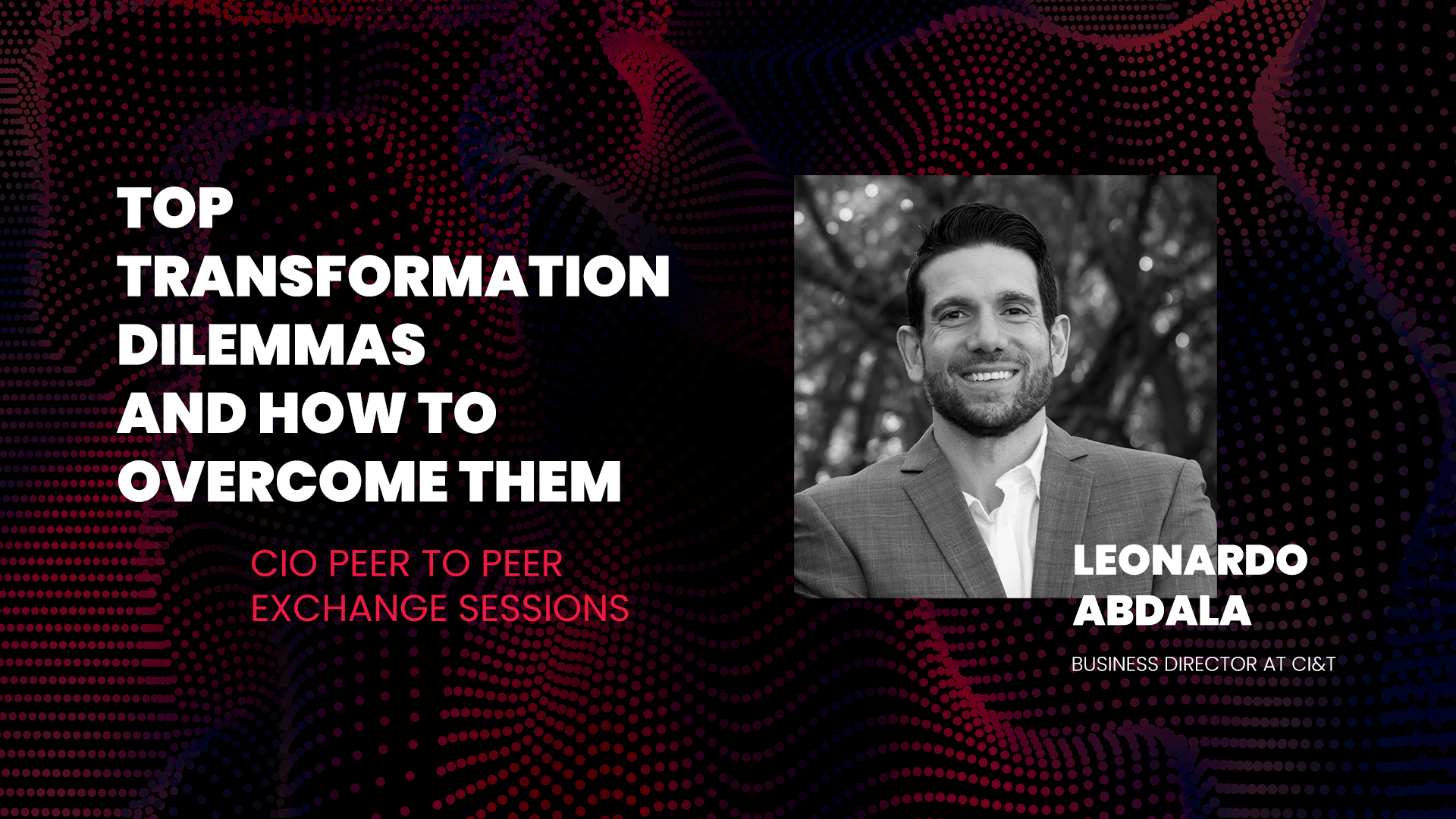 Fill in the form to access the full video and article
Leonardo Abdala
Business Director at CI&T

Leo is an executive with 20+ years of hands-on experience in software development, product and programme management. He is also co-founder and former CTO of a successful startup headquartered in Brazil.
As a consultant, Leo has structured and delivered digital solutions and innovation strategies for Fortune 500 companies and other global organisations in various lines of business. Sectors Leo worked in include education, telecommunications, pharma, financial services, insurance, health & fitness, fundraising, entertainment & leisure.
Leo holds both Bachelor Honours and Postgraduate degrees in Management Information Systems (MIS), and also carries a Project Risk Management Certificate from Stanford University and Digital Transformation Strategies from Cambridge Judge Business School.

About CI&T

CI&T is a global digital specialist with a 26-year track record. We are 5,400 experts (and growing) who combine world-class strategy, design, data and engineering to solve complex problems for our clients. We digitise their business, we co-create with them new digital opportunities but what excites us the most is to generate meaningful business impact every month, every quarter. For us, it's about pragmatism. We make solutions concrete and develop ideas into reality