Money 20/20 Hackathon Victory
The third annual Money20/20 Hackathon invited over 400 of the most ambitious and talented coders, designers and strategists to collaborate and create over 24 hours.

The stakes at this sold-out event were high, with $125k in cash prizes, plus another $100k in challenge prizes. Nearly 100 teams participated, creating over 100 projects.

The nine sponsors — Visa, Feedzai, First Data, Ingenico, Mastercard, Modo, Synchrony, Vantiv, and Worldpay — each had their own API or SDK to work with, and we had to choose a single challenge. Comrade chose Modo, a digital payments company.

Our idea: A new platform that lets you have the benefits of an all-inclusive resort in ANY city of your choosing. Pay one price for all your food, drinks and activities during your whole vacation. Open up your travel world to amazing possibilities while keeping your wallet closed.

Since we had only 24 hours from the start of the challenge to freshly code our idea, we started at 11am and slept for three hours before finalizing our two native iOS apps – an iPhone client app and a merchant iPad app. We used React Native, firebase, xCode, Redux, ES6, and first-time exposure to Modo's API.

We came well prepared to dig into the project, having cast clear roles for our team of five, set concrete tasks and organized our GIT repo and toolsets. Still, nothing can really prepare you for that moment when your app crashes continually three hours before submission – except improvisation and adaptive problem-solving.

We pitched against 12 other Modo API teams (in a two-minute format) and WE WON. As soon as we were told we won the first round, we marched behind the stage of the main room, and within minutes we were presenting to about 1,400 people on the main Money 20/20 stage in front of the judges, hackathoners and general Money 20/20 attendees!

Our prizes, provided by Modo, included $7,500 in Apple Store money for Comrade, Atari 2600 consoles (with 100 built-in games!), a sky jump from the Stratosphere tower, and an invitation to the 'Illuminati' dinner Modo was hosting with some high-level executives in the finance world!
Key takeaways, including the value of tiny hands
We learned a lot on the technical side, including better ways to rapidly prototype native apps. One learning: don't wait until the last minute to move from the emulator to the physical device. We had been building and testing in the Xcode emulator. We left the project in debug mode so it worked on our project, but the app would freeze when it was out of range from the laptop. After some frantic trial and error, we discovered our problem and built and deployed our app in production mode.

On the pitch side, we also learned some things about honing a two-minute presentation for the utmost effectiveness. Two minutes is not a lot of time to convey a business idea, show working apps and summarize the potential for the idea and the technology. We were all excited to show the idea and tried to share the presentation and spread the two minutes among the team. In hindsight, it would've been better to have one speaker without any handoffs.

And finally, our most obvious learning. When the hackathon uses a cameraman with a shoulder camera to show the mobile devices on the big screens, DON'T have the teammate with the biggest hands demo the iPhone app or you may only be showing a big hand to the audience.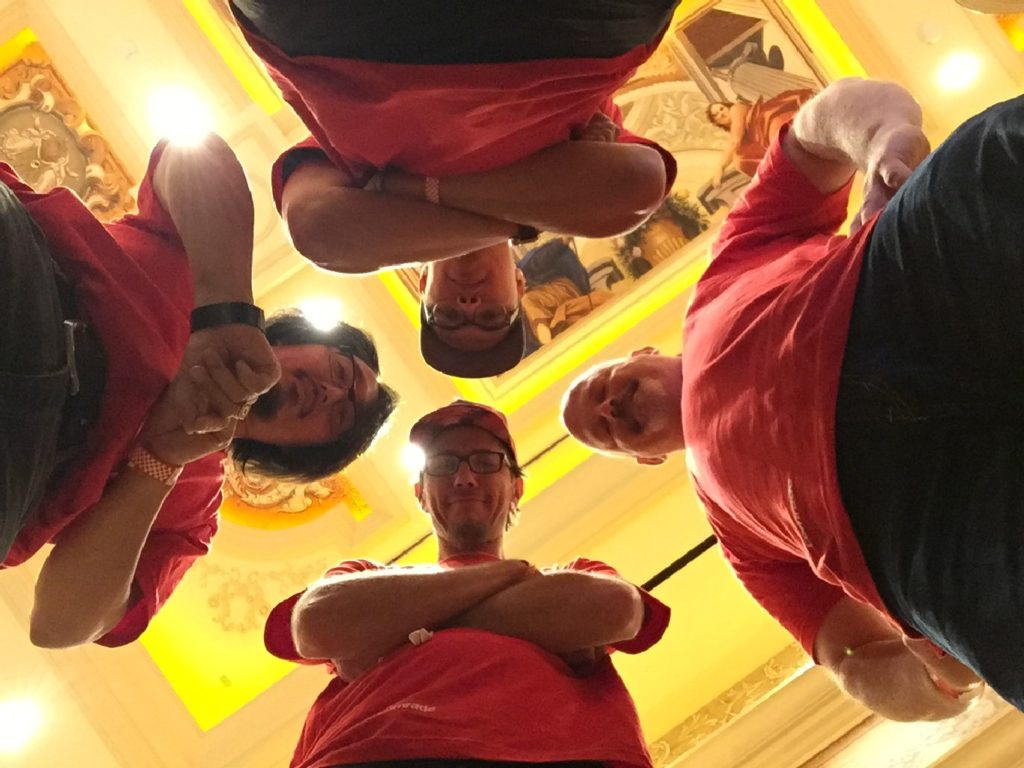 Summary
All in all, it was an action-packed weekend. We were overjoyed to see our efforts win the Modo Challenge and we are super proud of our elite Hacker team.

No word yet on who'll be making the leap again from the top of the Stratosphere. We'll keep you posted.

Special shout-outs to:
• Curtis for digging deep into the API and figuring out how to work it with very little documentation
• Nick for crushing the iPad app build
• Ryan for learning and styling xCode as we needed it, and orchestrating the presentation
• Melissa for coding most of the iPhone app
• The whole team for being positive, helpful and cool under fire, with very little sleep and a ton of work to be done!
---