Unleash exploration, creativity, and experimentation
CI&T unveiled its newest Prisma Innovation Center in Oakland, CA. Designed to encourage exploration, creativity and experimentation, the 16,500-square-foot site boasts unique co-creation spaces allowing CI&T and their clients to brainstorm and test ideas in the same space, in real time with rapid prototyping. The Prisma Bay Area serves as a strong bridge connecting CI&T's clients around the globe and the Silicon Valley innovation ecosystem.
Research & Media Lab
The Research and Media Lab is a fully functional usability lab and media production suite, capable of running focus groups, testing software or products as well as audio and video recording and editing. It features a state of the art observation room with a one way mirror and a testing room with talk back capabilities as well as audio and video recording. Some other features include high speed internet, concealed overhead microphone array, PTZ camera, live streaming capabilities and moderator services.
Floor Plan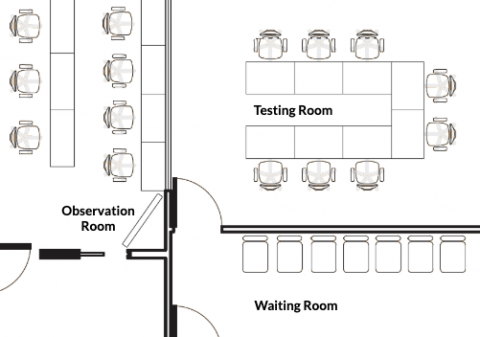 Set up your experience