CI&T Recognized as One of the Top Contributors to Drupal Development
Drupal Creator, Dries Buytaert, has released a recent post which reports who sponsors Drupal development where he compares year-over-year data to understand how open-source projects are important as it establishes a benchmark for project health and scalability.

For a third year in the row, CI&T has been featured on the list, and joins the Top 30 organization for a 2nd year in a row, being the only Systems Integrator in the list. The Top 30 organizations listed have contributed the most Drupal projects with the most credits. This year, CI&T is ranked 3rd with 959 credits, a climb from last year's 6th place ranking.

Currently, CI&T is responsible for maintaining more than 91 official projects in the Drupal community. The main categories are Administration, User Management, Third Party Integration, Utilities, Performance and Scalability and Developer.

These projects (modules) represent great importance and relevance in the Drupal community mainly because they are installed and actively used on thousands of sites in production.

A special highlight for:

Bootstrap_carousel
Created by CI&T to provide a very easy way to make carousels;
There are currently 4,288 sites report using this project.

Administration menu (admin_menu)
Provides a theme-independent administration interface;
There are currently 471,662 sites using this project.

Link
Provides a standard custom content field for links. With this project links can be easily added to any content types and profiles and include advanced validating and different ways of storing internal or external links and URLs;
There are currently 343,347 sites using this project.

Janrain
The official project to use Janrain with Drupal 8.

Contributing to the development and support of these projects is an honor for CI&T and we take it as a commitment to keep these projects up to date and safe in respect for all who use them.
"As a community, we need to work to ensure that each of these firms are contributing back to the project with the same commitment that we see from firms like Commerce Guys, CI&T or Acro Media."
Dries Buytaert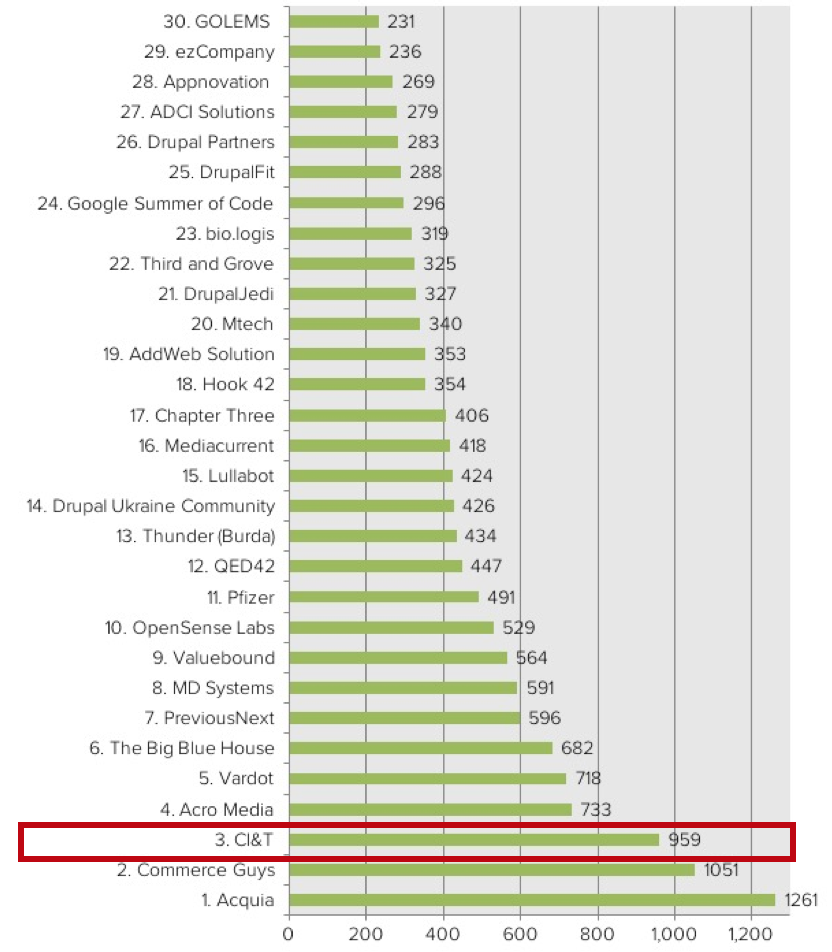 "CI&T is heavily committed to the Drupal ecosystem. We believe Drupal is a very robust and highly scalable platform suited to help our largest customers. Its high standard in an open-source model is only possible through a strong and vibrant community that CI&T is very proud to be an active and important member of."
Luiz Cieslak, Business Director, CI&T
Our very own, Renato Goncalves de Araújo has consistently been a part of the top individual contributors, and this year, he takes the #1 spot! Congratulations, Renato!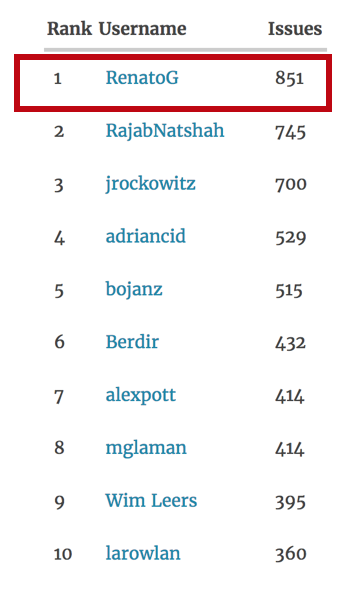 Read Dries' entire post.

We're proud to have over 300 Drupal experts and 40+ Acquia Certified Developers who have developed and managed over 1000 Drupal sites and counting.
---